Marriott-Sorenson Center for Hospitality Leadership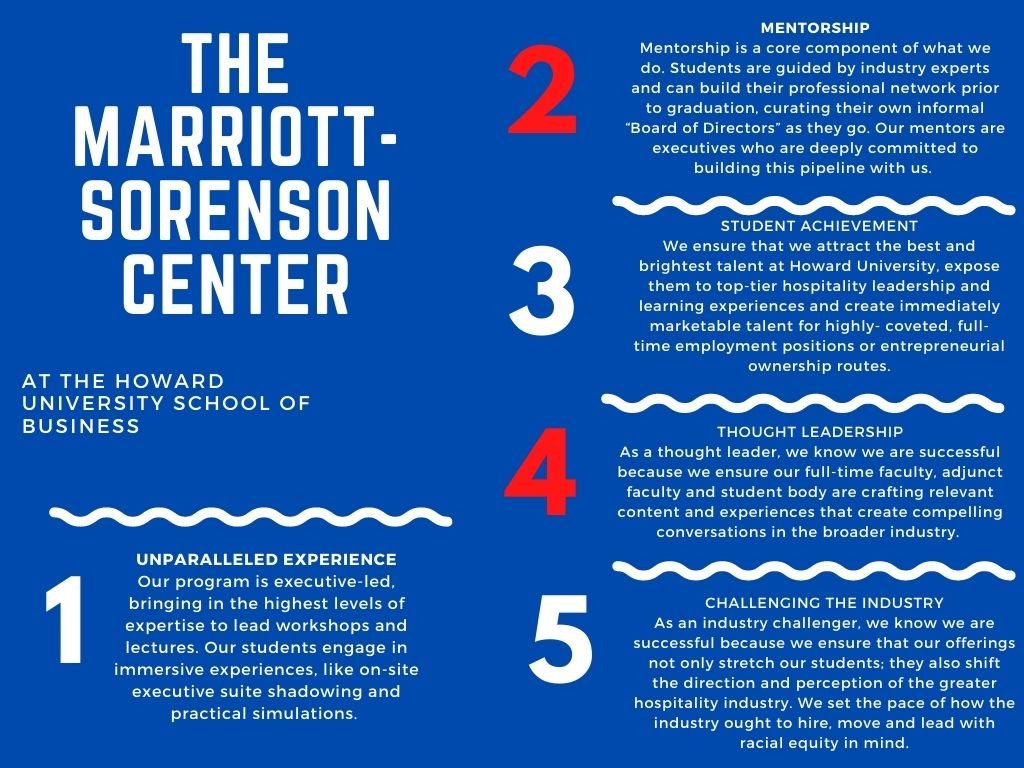 The need for Black representation in the C-suites of the hospitality industry is urgent and necessary. Howard University, The J. Willard and Alice S. Marriott Foundation, and the Hospitality Industry join together in demanding immediate change. The Marriott-Sorenson Center for Hospitality Leadership is changing the complexion of hospitality leaders by creating a pipeline to the executive suites.
In recognition of the shared values of excellence, service, truth, and integrity, and honoring the late Arne Sorenson, beloved president and CEO of Marriott International, The J. Willard & Alice S. Marriott Foundation is providing a $20 million endowment to create the Marriott-Sorenson Center for Hospitality Leadership in partnership with Howard University.
Howard University's location and its long-held commitment to the study of disadvantaged persons in American society and throughout the world, and its goal to eliminate inequities related to race, color, social, economic, and political circumstances, make it the epicenter for the transformation of the hospitality industry.
Arne Sorenson was a man who embodied many of the attributes of the Marriott- Sorenson Center for Hospitality Leadership. He practiced candor and honesty, and believed "each person deserves to be recognized for who we are and respected for both our common humanity and the distinct qualities that make us unique." Arne wrote, "I have tried to use my perch at Marriott to advocate for an opportunity for all." He also called upon others to live "in a way that pierces through prejudice" and "use our own lives to bring recognition and community and opportunity to life." As an icon in the hospitality industry, Arne's remarkable legacy will springboard students into taking the future higher.
Our approach reflects our mission, our vision, and our history. The Marriott-Sorenson Center for Hospitality Leadership creates opportunities for ambitious Howard University students to elevate the industry. They repeatedly prove they aren't afraid to take action, and reflect on where they have come from and the world they want to create as they live their mission over their major. 
Guided by the ever-evolving, fluid, and bold strategic vision of Howard University, the Marriott-Sorenson Center for Hospitality Leadership addresses the needs of a changing hospitality landscape. We are intentionally innovative as we create seismic waves in the hospitality industry.
We build on Howard University's powerful research history as we create thought leadership that not only prepares students to be the workforce of the future, but also empowers them to be co-creators in what the future of hospitality leadership looks like.
This thought leadership helps us as we challenge the industry. We believe the only acceptable goal is parity, and we will hold the industry accountable to this standard as we shine a continual spotlight on race. We recruit committed industry partners to join us in this bold vision for a diverse, equitable, and inclusive future.
Continuing Howard University's unwavering quest to balance the scales for the disenfranchised, and promote an America that is devoid of inequalities, the Marriott- Sorenson Center for Hospitality Leadership equips students with the skills to be agents of change in the hospitality industry.
Unparalleled Experience 
We start with addressing the stigma of servitude attached to hospitality. Our grounding in Black history in hospitality is woven in as we explore the breadth and earning potential, igniting inspiration and possibility. Our program is executive-led, bringing in the highest levels of expertise to lead workshops and lectures. Our students engage in immersive experiences, like on-site executive suite shadowing and practical simulations. We offer a variety of internships, from freshman through senior year, giving students multiple views of the industry. The culmination launches Howard University graduates into their global and local communities to change the world, and become life-long ambassadors of the program. 
Mentorship 
Mentorship is a core component of what we do. Students are guided by industry experts and can build their professional network prior to graduation, curating their own informal "Board of Directors" as they go. Our mentors are executives who are deeply committed to building this pipeline with us. They represent diversity across gender, race, and experience in the industry, and many are our proud Howard University Alumni.